About me
I see now how naive the text is but this is how it had been written in the previous century..

I'm software developer from St-Petersburg, Russia
Bio
In february 1994 I concluded my study in Saint Petersburg Electrotechnical University "LETI", it was 6-years study but there were no Bachelor/Master degrees in Russia, just "high education".
Department of Electron Devices Design and Manufacturing, at the time it was pretty close to computer science.
Some snapshots of my life
1995 year. 3 years before captain rank.

Tools: MSM-system (hierarchical DB from Massachusets, now Caché, Pascal, C, ASM, VBA, big hammer and AK-47 ;)
2001 year. 3 years after captain rank, already retired from military service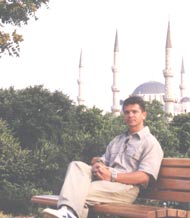 Tools: MS SQL and others, Delphi, C++, PHP, DHTML, XML, DCOM, etc.
But on the photo I am just on vacations in Istanbul.
2003 year

Tools: Anything and everywhere 8-) Last vacations in Crimea..
Contact me